Царь скорпионов 2: Восхождение воина / The Scorpion King: Rise of a Warrior
Молодой Масьюз видит смерть своего отца, самого великого воина его народа. Всем известно, кто убил его. Годы проходят, и Масьюз становится воином Черным Скорпионом, готовым служить своему царю, человеку, что убил его отца. Как его остановить, если царь — владеет черной магией и поддержкой Богини Смерти. Масьюз встретится с Минотавром и попадет в Подземный мир и все ради мести.
Frames: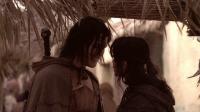 This film have no comments...