Восстание планеты обезьян / Rise of the Planet of the Apes
Действие фильма происходит в современном Сан-Франциско и строится вокруг ученого, генетические эксперименты которого привели к возникновению высокоразвитого интеллекта у обезьян. Приматы, осознав свое подчиненное положение, поднимают восстание и лишают человека звания царя природы.
Frames: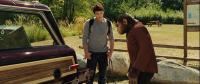 This film have no comments...